---
Our Epoxy Wood Hardener - called Epoxy Primer Consolidator. This is a thin liquid two pack designed to flow easily into decayed wood, after the rotted fibres have been dug or machined out. Acts as a both a penetrating hardener and a wood primer. Non shrink, provides a strong bond for Epoxy Putty and Timbabuild Filler.
---
Wood decay needs to be cut out before our ultra effective wood hardener, Epoxy Primer Consolidating liquid is applied, in order to avoid sealing in pockets of rot that might continue to decay in the long term. Once the wood Primer Consolidator has soaked in our surface fine filler, Timbabuild can be applied, for holes less than 20mm deep, or our Moldable Epoxy Putty can be used instead in deeper holes, to reduce costs. After the Wood Hardener and Timbabuild, or Moldable Epoxy Putty, have dried hard the wood can be drilled for the insertion of Boron Paste and Boron Rods, to prevent future decay in the remaining timber. These 10mm holes should be plugged using our plastic DPC Plugs, or wooden dowel, or wood filler. Cutting out of rotted timber can easily be achieved using our 3D Cutters, available in diameters from 6mm to 32mm.
Our wood hardener Primer Consolidator is non-flammable, does not contain any solvents and does not shrink or separate over time.
Click here to buy Wood Hardener.
---
Hardening Decayed Wood
Unlike Retail wood hardeners we do not use acrylic, polyester or solvent based resin hardeners because they are not epoxy-based, and although they may make the wood hard they do not restore substantial strength. They can also be chemically unstable due to long-term exposure to moisture in the wood, the cause of decay and every present in external joinery. Epoxies are not affected by this dampness, do not shrink and will not deteriorate inside the wood with age.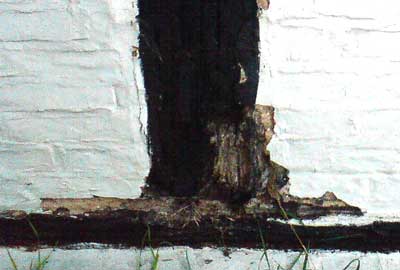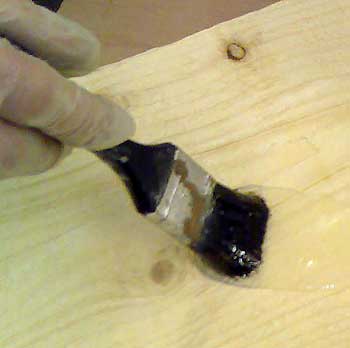 Wet rot in the base of a frame of a Timber Framed house. After cleaning out the rot apply Epoxy Primer Consolidator.
Click here see the products and prices in our Resins Shop
---
Timber repair - how to repair timber window frames and cills and other rotted wood
Summary
1. Cut out all the decay - vacuum to remove dust.
2. Apply Epoxy Primer Consolidator with a brush
3. For filling deeper than 15mm use Moldable Epoxy Putty
3. For shallow filling and to finish over the Moldable Epoxy Putty apply Timbabuild to bring the surfaces to level - smooth with a plastic spreader.
Clicking on a blue Product Name takes you directly to the Shopping Page,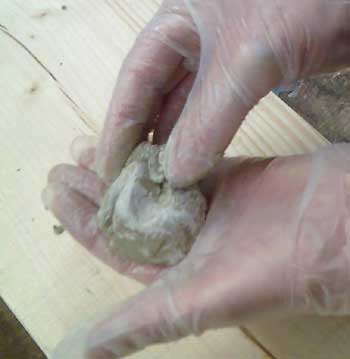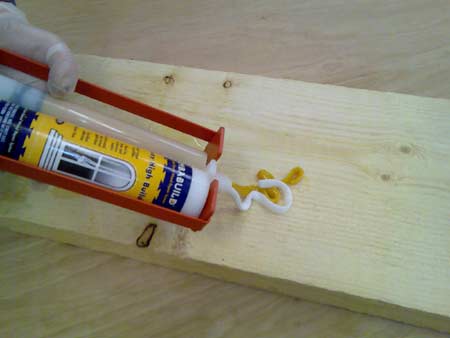 Mix Moldable Epoxy Putty wearing gloves. Mix Timbabuild on a mixing board with a knife.
You can add our Colour Powder, in small pinches, to the mixed products to change their colour.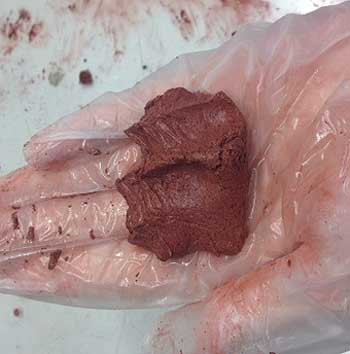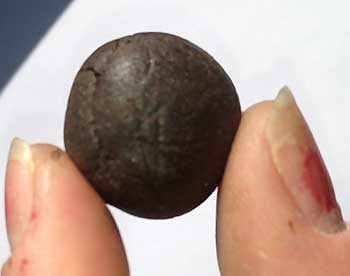 Moldable Epoxy Putty coloured red, in the gloved hand, and a brown coloured lump after hardening.
Click here see the products and prices in our Resins Shop
---

OUR SHOPPING PAGES

RESINS SHOP - this Site, for Epoxies and other building repair resins

---

Contact I History I Links I Privacy Policy | Returns Policy I Resins Shop | Technical | References

---

Property Repair Systems

T: 01626 872886

E: Mail us help@propertyrepairsystems.co.uk

---

Site written by: David Moore

David Moore, B.A. (Hons.), C.T.I.S., C.R.D.S. Technical Author

Google+

---

Other Property Repair Systems Sites:

www.drywallandfloor.co.uk - membranes for lining damp walls, floors, basements and cellars

www.fire-door-paint.co.uk - upgrade doors to 30 minutes fire resistance

www.joist-repair.co.uk - how to quickly repair joists and beams of any size

www.propertyrepairsystems.co.uk - our Home Site

www.steel-fire-paint.co.uk - treat steel with Intumescent Paint to provide fire protection

www.timber.org.uk - systems of repair, with step by step methods

www.timber-repair.co.uk - how to repair timber beams

---