---
Floor Laying - how to bond flooring
Summary
1. Clean all surfaces - vacuum to remove dust.
2. Apply Ultra Epoxy Adhesive Paste to both surfaces with a plastic spreader - apply a minimum of 1mm thickness to each face
3. Bring together and tap into place. Maintain temperature above 5 degrees C to ensure continuous curing.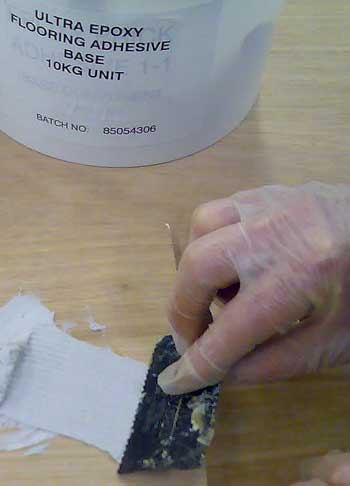 Click here Go Direct to our Shopping Pages
---
Ultra Epoxy Adhesive Paste - initial set 20 to 30 minutes - 1:1 hand mix or paddle with an electric drill
DESCRIPTION
ULTRA EPOXY ADHESIVE PASTE is a two part, solvent free, high strength epoxy resin adhesive.
Epoxy Adhesive Paste - two pastes for hand or machine mixing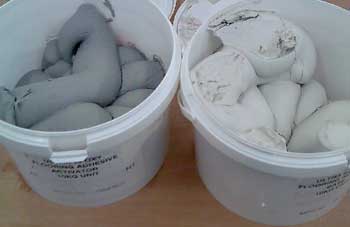 USES
Bonding flooring to concrete, brick, block, stone and metal.
---
ADVANTAGES
- bonds to most masonry and metal surfaces
- waterproof
- high bond strength
- flexible
- easy to mix, equal 1:1 mix ratio, mix only what you need.
- coloured 2 parts means correct mixing every time
---
PACKAGING
ULTRA EPOXY ADHESIVE PASTE is supplied in two part packs from 1kg to 15kg, 1 litre to 10 litres. Each pack consists of two separate containers: mix ratio is an easy 1:1. The final colour when set is mid grey.
Go Direct to our Shopping Pages
Buy Now for fast Delivery - Nationally, by T.N.T. and UK Mail Carrier.
---
Floor repair products for difficult floor laying situations:
1. Floor is cracked - grind out, remove dust, apply Epoxy Primer and fill with Moldable Epoxy Putty.
2. Floor has a hole - grind out, remove dust, pour in Structural Epoxy Pouring Resin, which will self level.
3. Floor is damp - clean, then apply 2 or 3 coats of Epoxy Seal Coat.
4. Floor is dusty - clean, then apply 2 coats of Bondacryl liquid.
5. Floor is uneven - clean, prime with a Bondacryl Slurry, then lay a thin floor screed incorporating Bondacryl, instead of water.
Let us help you choose the correct solution to your problem - don't waste money on unnecessary treatments or products.
---
BULK RESIN DISCOUNTS AVAILABLE - BUY IN BOXED QUANTITIES
ALL ORDERS GO OUT SAME DAY - GUARANTEED
OUR SHOPPING PAGES
RESINS SHOP - this Site, for Epoxies and other building repair resins
---
Contact I History I Links I Privacy Policy | Returns Policy I Resins Shop | Technical | References
---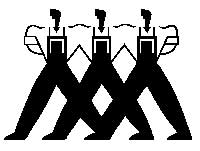 Property Repair Systems
T: 01626 872886
E: Mail us help@propertyrepairsystems.co.uk
---
Site written by: David Moore
David Moore, B.A. (Hons.), C.T.I.S., C.R.D.S. Technical Author
Google+
---
Other Property Repair Systems Sites:
www.drywallandfloor.co.uk - membranes for lining damp walls, floors, basements and cellars
www.fire-door-paint.co.uk - upgrade doors to 30 minutes fire resistance
www.joist-repair.co.uk - how to quickly repair joists and beams of any size
www.propertyrepairsystems.co.uk - our Home Site
www.steel-fire-paint.co.uk - treat steel with Intumescent Paint to provide fire protection
www.timber.org.uk - systems of repair, with step by step methods
www.timber-repair.co.uk - how to repair timber beams
---