---
Structural Epoxy Pouring Resin - supplied in 2.5 litre and 7.5 litre tubs
For machine and steel beam mounting beds, load bearing pads and heavy duty bases. Ideal after shimming, to pour under a machine or load bearing mounting to provide a permanent structural bed.
This is a three part, self leveling epoxy Resin, supplied as two liquids with a separate aggregate powder, in a large plastic mixing tub. Ideal for forming strong, uniform bearing areas and mounting pads for machinery and bearing support pads for timber and steel structural beams. Also designed for pouring into holes and voids in timber and concrete. Ideal for use with Epoxy/Glass, Carbon and Steel bars and plates, as part of a composite, reinforced repair structure. It is self degassing and can be poured in stages, with no thickness limits.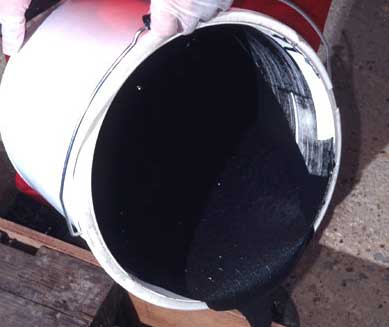 Pouring Structural Epoxy Resin being pouring into a machine mounting.
Click here to see this product and prices in our Resins Shop
---
Casting Epoxy Resin for a steel bearing into a shutter box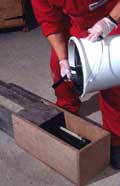 Epoxy being poured into a shutter box for a steel support pad.
Click here to see this product and prices in our Resins Shop
---
How to cast a Machine Base or Bearing Pad:
1. Cut out all loose and damaged concrete or timber - remove all dust and debris.
2. Reinforce if necessary - ask for our Free Design Service - cut slots or holes for Steel, Glass, Carbon or Stainless Steel Rods.
3. Bond rods into place - by injection with Thixotropic Epoxy Injection Resin or Structural Epoxy Pouring Resin.
4. Fill - complete the repair with Structural Epoxy Pouring Resin. Top up to the final level.
For our Free Design Service call Angela on 01626 872886 .
Clicking on a blue Product Name takes you directly to the Shopping Page,
Click here to see this product and prices in our Resins Shop
OUR SHOPPING PAGES
RESINS SHOP - this Site, for Epoxies and other building repair resins
---
Contact I History I Links I Privacy Policy | Returns Policy I Resins Shop | Technical | References
---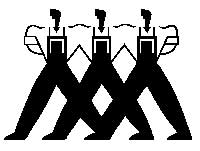 Property Repair Systems
T: 01626 872886
E: Mail us help@propertyrepairsystems.co.uk
---
Site written by: David Moore
David Moore, B.A. (Hons.), C.T.I.S., C.R.D.S. Technical Author
Google+
---
Other Property Repair Systems Sites:
www.drywallandfloor.co.uk - membranes for lining damp walls, floors, basements and cellars
www.fire-door-paint.co.uk - upgrade doors to 30 minutes fire resistance
www.joist-repair.co.uk - how to quickly repair joists and beams of any size
www.propertyrepairsystems.co.uk - our Home Site
www.steel-fire-paint.co.uk - treat steel with Intumescent Paint to provide fire protection
www.timber.org.uk - systems of repair, with step by step methods
www.timber-repair.co.uk - how to repair timber beams
---