---
Aluminium Oxide Grit - used for creating an anti-slip surface on our Epoxy Seal Coat and for re-gritting MOT Brake Rollers on top of our Thixotropic Epoxy Resin. Also used for 'blinding' our Epoxy Seal Coat when used as a damp proof membrane to provide a grip for tiling or flooring adhesives. Aluminium Oxide Grit can also be used in grit blasting machines for cleaning metals - it removes rust, corrosion and paint.

It is even used in Potato Peeling Machines for resurfacing the drum of the so called 'rumbler'. Over time the grit loses its sharpness and the potatoes take longer and longer to 'peel'.

Purchase Grit by the Kilo - allow 2.5kgs per square metre for full cover.

Click here to go to our Shopping Pages
---
Grades of Grit available
Grits - available in Grade 12, Coarse, 16, Medium, 24, Fine and Mixed Grade.
Grade average grain diameters - Grade 12 = 1.7mm, Grade 16 = 1.2mm, Grade 24 = 0.8mm, Mixed Grade = 1mm to 3mm.
Grades 12, 16 and 24 can be used for metal polishing and finishing and for adding to coatings to provide anti-slip properties. They can also be used for 'blinding' our coatings to provide a grip for adhesives or screeds - use them in conjunction with Epoxy Seal Coat and Technoseal.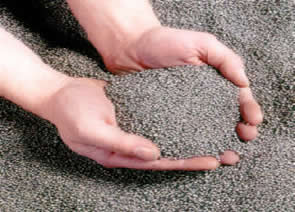 The Mixed Grade is used for the Commercial Vehicle Testing Rollers, where a rougher surface is required.
Contact us aT: 01626 872886 or help@propertyrepairsystems.co.uk
---
The Benefits of Anti-Slip Coatings using Aluminium Grit
Resistance to slip and skid
Works when surfaces are wet
Coarse or fine grits
Choice of packaging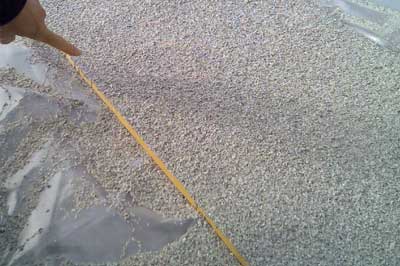 Aluminium Grit scattered over Epoxy Seal Coat
---
Anti Slip Applications for Aluminium Grit
Walkways in public or private areas. Improved wet grip and traction on slopes.
Paths and steps, which are prone to be slippery when wet.
Pedestrian and vehicle ramps, to provide increased grip in the wet.
Public areas where a gritty surface is useful to reduce falls.
Industrial flooring in process plants, especially where washing down is frequent.
Decking which may become slimy in Winter.
Road Plates to increase wet weather traction for vehicles.
Brake Rollers for MOT Test Stations.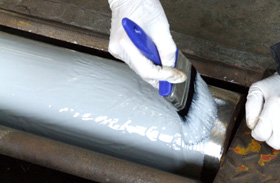 Brushing on Thixotropic Epoxy Resin ready for Gritting
---
Blasting Applications using Aluminium Grit
Cleaning with Aluminium Grit

Benefits
No measurable amount of metal removed
No contamination of work surfaces; beads are chemically inert
Easy cleaning of hard to reach interstices or fillets
Wide range of beads sizes available
Can specify a wide variety of finishes
Lower energy costs and use vs. other media applications
Cleaning of debris from vats, tubes, trays, utensils, tanks, etc.
General cleaning of machinery, dies, plates, molds
Removal of coatings and debris from surfaces
Maintenance cleaning in engine rebuilding (e.g. pistons, blocks)
Cleaning of large turbines and engine castings as well as small intricate parts.
---
Using Grit for Cleaning/Blasting
Because of the wide variety of different materials which may be removed in cleaning operations, it is often best to experiment with different nozzle angles to find which works more efficiently. Where there are internal recesses and other difficult areas, the use of smaller bead sizes may be particularly helpful. Since a high cleaning speed usually minimizes labour, bead size and nozzle angle are key considerations. Normally, a velocity which optimizes cleaning speed with a given size of bead will optimize the consumption, to give lowest total cost.
OUR SHOPPING PAGES
RESINS SHOP - this Site, for Epoxies and other building repair resins
---
Contact I History I Links I Privacy Policy | Returns Policy I Resins Shop | Technical | References
---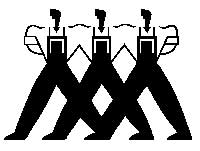 Property Repair Systems
T: 01626 872886
E: Mail us help@propertyrepairsystems.co.uk
---
Site written by: David Moore
David Moore, B.A. (Hons.), C.T.I.S., C.R.D.S. Technical Author
Google+
---
Other Property Repair Systems Sites:
www.drywallandfloor.co.uk - membranes for lining damp walls, floors, basements and cellars
www.fire-door-paint.co.uk - upgrade doors to 30 minutes fire resistance
www.joist-repair.co.uk - how to quickly repair joists and beams of any size
www.propertyrepairsystems.co.uk - our Home Site
www.steel-fire-paint.co.uk - treat steel with Intumescent Paint to provide fire protection
www.timber.org.uk - systems of repair, with step by step methods
www.timber-repair.co.uk - how to repair timber beams
---